Posted on Thursday, 10th June 2010 by Michael
MJSIP: Automating the Magic Jack SIP retrieval
What is it:
MJSIP is a simple Perl script written by a co-worker and myself. This script uses regular expression matching to automate the finding of your SIP password in the dump file.
MJSIP has been tested on over 50 Jacks that were purchased and registered this month (6/07/10). Each Magic Jack we tested worked flawlessly.
Though this tool has been tested and we have worked out many of the bugs there are two conditions that we are aware of that will cause MJSIP not to return a password back to you. The first condition is if you dumped the memory wrong using the SIPDump tool. The second condition is if your Magic Jack password contains the same letter or number more than 4 x in a row.
What is required:
MJSIP: Our Perl script. This can be downloaded here: http://www.digitaloffensive.com/mj/mjsip.zip
SIPDump: Magic Jack stores all your SIP information in the programs memory during the startup process. SIPDump is a modified version of MemDump, which was originally developed by Stroth. You can download this tool here: http://www.digitaloffensive.com/mj/mj.rar
Active Perl: This is a free windows port of the Perl interpreter. It can be downloaded her for the 32 bit or 64 bit processor: http://www.activestate.com/activeperl/downloads. Download the msi file and install it, choose all the defaults.
How to use it:
Step 1: Download and extract all your tools to a folder on your system. Working out of one folder will make life so much easier.
Step 2: Use SIPDump.exe to dump the Memory of your Magic Jack. If you need more details on how to do this check out my article on this located here: http://www.digitaloffensive.com/2010/03/hacking-the-magic-jack-in-2010-for-use-on-trixbox-or-any-other-sip-device/
Step3: Out of all the Magic Jack's we have tested the 3rd dump file was the most reliable at containing the password. I would strongly suggest you do not change that line in the MJSIP.pl file.
Step 4: Open a command prompt and navigate to the folder that you created that has all your tools in it. This folder should also contain you SIPDump files, unless you did not listen to my suggestions above. Once in that folder type the following command "perl mjsip.pl" This should dump your password to the screen.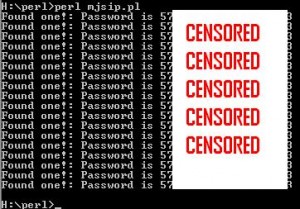 If you found this tool helpful please feel free to either visit one of our sponsors or donate by clicking here.
If you have questions, concerns or ideas to automate more or add to it feel free to contact us.
Posted in Papers | Comments (26)
26 Responses to "MJSIP: Automating the Magic Jack SIP retrieval"
Leave a Reply